The Student of the Month: ESTELA GARCIA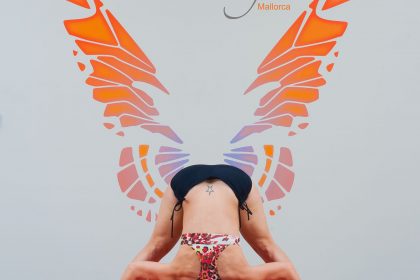 We proudly present
ESTELA GARCIA
, the Student of the Month Estela is a fascinating woman, fluent in 5 languages, world traveller, mother of lovely Hannah, she is actually a free spirit with an amazing outgoing & bubbly personality. She Loves the sea, the outdoors and also diving. Yoga is a big part of her life, passionate about Bikram HOT Yoga she try to practise as much as she can and she also keep on Encouraging people to try it! Estela is a freelance photographer and currently she is the Sales Executive of a 5 Star Hotel in Mallorca "The Gran Hotel Son Net"
When u start to practice Bikram HOT Yoga?
In 2002 in New York City.
How long you been practising at Bikram Hot Yoga Mallorca?
Since the Summer it opened.
How many times you practise weekly?
Between 3 to 5 (well, now 7 days a week as I am doing 30 day challenge)
What are the main benefits Bikram Hot Yoga brought to your life?
My body shape get's toned, stronger and more beautiful. My lungs and internal organs get clean. My energy goes up.I feel positive and grounded. My skin is clear and rejuvenated. Inner and outer strength. More courage, patience and determination in my life. Perseverance.
Parajumpers Sverige
Being at peace with my body and with who I am. More Drive, Passion and Motivation.
What are the asanas you like the most ?
There are (2 asanas) Fix firm pose I love this one because the stretch and for being able to fully relax and surrender into it 🙂 I also like Camel for the challenge of going beyond my comfort zone.
What are the most challenge asana for you?
The one I find really confronting is Lotus pose. Every time I am on the floor with my left ear on the matt I am cursing it and I say to myself "rrrrrrrr what am I doing here???"And then I say to myself "remember how good you will feel after the shower.." And then Lucci says :second set! and I go: "rrrrrrrrrr noooooo" and then its over! Bliss 🙂
What is your most memorable time at Bikram HOT Yoga MALLORCA?
Every day is memorable, every day is different, I do love and remember when Lucci started teaching Karma yoga with candles and music, that was very special. And every moment where you feel you can't go further, and yet Lucci takes you to the next level beyond your limited beliefs of what is possible. I love the sense of community amongst students and the truly wonderful loving friends I have made along the way I love the changing rooms and the super duper showers, and of course all the memorable and fun conversations in there 🙂 However I do must admit that my favourite moment ever is when Lucci says: Venga chicas, ese culito, pa fuera" in awkward pose. It always makes me smile and takes the drama away from the posture and so from life in general.
Would you recommend Bikram HOT Yoga Mallorca?
Absofuckinlutely!
Anything you would like to add ?
YES: THANK YOU LUCCI! THANK YOU MIRO! BIKRAM HOT YOGA MALLORCA ROCKS!