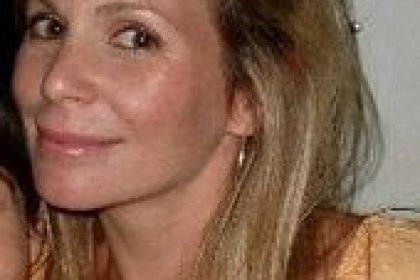 Flow Synergy is the words to describe our beautiful student Natalie Hillston. She managed to matched her body to every single words that the teacher says in class and that makes a tremendous beautiful impact on her practice. We have the pleasure to see her blossom day after day and she become a real inspiration to all of us.
TELL US ABOUT YOU
I am Australian/Greek that came to Mallorca by chance for a 2 month summer job, that was 6 years ago. Now i am permanently based in Palma and i am looking forward to start a new job this month for a yacht crew training and recruitment agency in town. EVEN BIGGER NEWS…..I AM GETTING MARRIED TO MY WONDERFUL FIANCE THIS OCTOBER HERE ON THE ISLAND 🙂
WHEN DID YOU FIRST START TO PRACTICE BIKRAM HOT YOGA, AND HOW LONG HAVE YOU BEEN PRACTISING?
My girlfriends introduced me to Bikram Hot Yoga, February/March 2013. I was very much a yoga novice and had NO IDEA what Bikram"s practice entailed, EXCEPT that it was going to be very HOT. I was quite nervous about the whole thing, but i joined for the 7 days trial pass like my friends. I actually did not need an entire week to consider signing up for a membership. I KNEW AFTER DAY ONE THAT THIS WAS SOMETHING I WOULD LOVE TO CONTINUE.
WHAT ARE THE ASANAS WHICH CHALLENGE YOU, MOST AND WHY?
To be honest all of them are challenging… but not impossible, as Lucci would say.
A posture that may seem or look simple at first can actually end up being the toughest one that day, depending on your concentration, your determination to push yourself and even nbso online casino the hour of the class can play a big part. The Balancing series, particulary posture 4 through 8 are my most challenging.
There never a moment when you are not tightening, sucking, stretching, kicking, holding, pushing, pulling, tucking, straightening, lifting, locking the knee…. exhausting!
WHAT IS THE MOST DIFFICULT ASANA FOR YOU AND WHY?
I would have to say Dandayamana-Janushirasana (Standing head to knee). When I started Bikram I could barely lift my legs out in front, but I"m slowly getting there. I still have a long way to go before I can comfortably stay in the posture, but I"ll keep trying, whether it takes me another week, month, year or 5 years to be able to stand there without toppling over.
TELL US ABOUT YOUR EXPERIENCE AT BIKRAM YOGA MALLORCA ANY SPECIAL MOMENT YOU WANT TO SHARE?
It has truly been a great year and a half since I started. I"m ever so grateful to my friends, Kate and Julia, for taking me to my first class. We"re so privileged to have such a fantastic studio in Palma that caters for an international clientele – Lucci and Miro have done an amazing job. Here everyone feels welcome no matter their experience, age or purpose for practicing Bikram… I really had nothing to be nervous about before coming to my first class. As for special moments, there are many, particularly congratulating students on the completion of their 30-day challenges – I hope to do this one day too. It"s remarkable and very inspiring to see everyone"s progression with their practice as the months roll on. Other memorable and fun occasions have been participating in the website photos with my fellow yogis and appearing in some recent advertising for the studio – it"s a nice little keepsake for me 🙂
WOULD YOU RECOMMEND BIKRAM YOGA MALLORCA?
Absolutely! To everyone and especially those who are sceptical about the benefits of yoga. I have always enjoyed exercising, although before I started I really lacked flexibility and integral core strength. Bikram Hot Yoga has definitely quashed my apprehension towards the practice of yoga and any self-doubt I had about being able to accomplish the postures.
ANYTHING ELSE TO ADD?
Mix up your mid-week with an hour of intensity. If you haven't tried Fierce Grace class, do it! It may be a shorter class but it's nothing short of arduous.